How do I scrap my Car? Get a quote!
Click the button or call us on 01795 227576 to find out how much your vehicle is worth. The price we offer will depend on the type of vehicle and its condition.
Once you have your quote and you're happy to move forward, one of our staff will arrange a convenient time for your vehicle to be collected. We'll normally try and collect your vehicle within a day of the quote being accepted.
Once we've collected the vehicle, you sign the log book to transfer ownership of the car to our agent and we'll give you cash for your car, while we recycle your car.
Scrap my Car Sheerness
Is your vehicle at the end of its life? Taking up valuable space on your drive? Don't know what to do with it?
We buy all types of used vehicles; from the stunners, to the non-runners including those that are damaged, taxed or untaxed. If you need to scrap your car in Sheerness, then get in touch for a no-obligation quote.
Free collection guaranteed. All collections can be carried out within 12 hours, we recycle your car, no vehicles too large or small. A recovery truck can be arranged to suit your needs. These trucks run a 24-hour service making sure collection of the vehicle is at your convenience.
Scrap your vehicle in 3 easy steps:
Quote – Once supplied with a registration number, we will provide a NO OBLIGATION quote
Accept – You will need to accept the quote and arrange a convenient collection time
Collect – We will collect the vehicle, together with documentation – FREE OF CHARGE – and pay you cash or cheque on collection.
It really is that easy!
If you need to scrap your car in Sheerness, contact us today for a no obligation quote and let us take the stress out of scrapping your vehicle.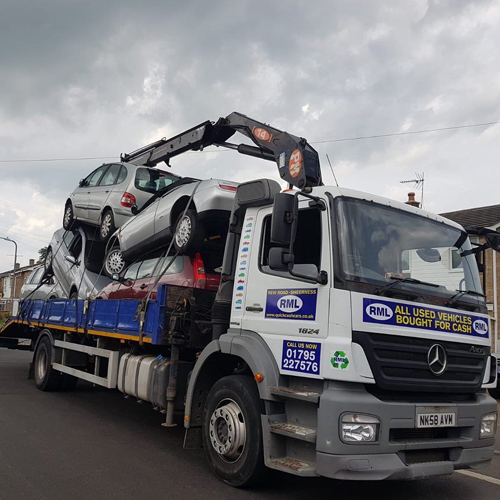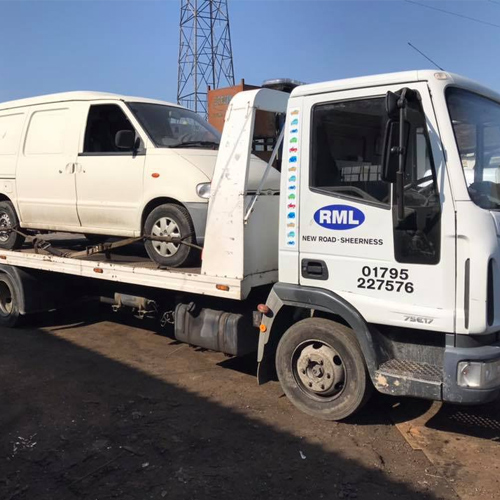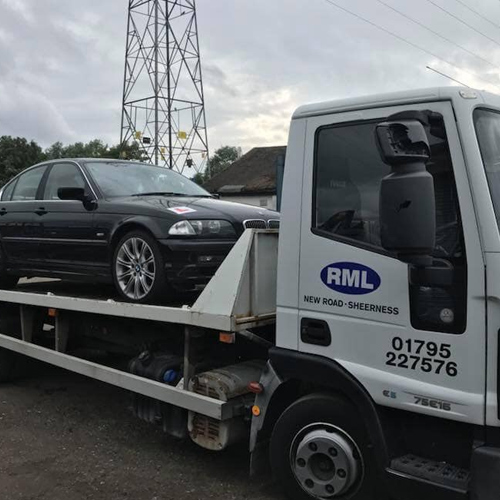 Why choose RML Kent?
12-hour guarantee
We guarantee to collect your vehicle and pay you on collection within 12 hours of acceptance of your quote. We also offer a 24-hour service.
DVLA Compliance
RML are an authorised treatment facility, registered with the DVLA. Once your car has been scrapped, we issue you with a Certificate of Destruction.
Taxed or Untaxed
Whether taxed or untaxed, with or without an MOT, we can scrap your car. If you have paid in advance for your tax, make sure to claim back any that is unused from the DVLA.
Competitive Prices
We offer the most competitive prices for all your scrap vehicles. Cars, vans, motorcyles, caravans & motorhomes, we will match any quote.
We pick up
We will collect your scrap vehicle from a location and at a time to suit you. Please check our full list of areas covered across Kent.
Environmentally Conscious
We are committed to disposing of your scrap cars in an environmentally friendly manner. Please browse the website for more information on this process.

We are DVLA Registered
RML are an authorised treatment facility and are licenced with the DVLA. Under the Scrap Metal Dealers Act 2013, every scrap metal dealer is required to have a licence issued by the DVLA. Operating without one would be a criminal offence.
Once your car is scrapped by RML, we will issue you with a valid Certificate of Destruction with informs the DVLA that your car is no longer on the road.
Helpful DVLA resources:
Great Service
Great service and great guys. Good prices paid and a lot less hassle than others.
Al
Highly Recommend
A 5 star sevice goes above and beyond very nice and polite would highly recommend
Julie
Always go the extra mile
Good company always helpful always go the extra mile
James
Frequently Asked Questions
Q: Is it free to collect my car?
A: Yes. Free collection is guaranteed on all vehicles. All collections will be carried out within 12 hours. No vehicle is too large or too small. A recovery truck can be arranged to suit your needs.
Q: Can you collect my car whilst I'm at work?
A: Yes. As long as somebody is there for the collection, it doesn't have to be the registered owner or keeper. This person, however, will need their personal I.D. and a recent utility bill or bank statement. As long as they have these, we can collect the vehicle.
Q: Are prices guaranteed?
A: Yes. When we provide you a quote, we stick to it. The only thing that may affect the price is if you have taken parts from the vehicle without telling us.
Q: What document do I need to provide on collection?
A: Whoever is there on collection of the vehicle will need to provide photo I.D (Driving Licence or Passport) and proof of address (Utility Bill or Bank Statement less than 3 months old). We will also need the keys and the V5C Registration Document.
Q: How do i get paid?
A: Same day payment through either; Bank Transfer, Cheque or PayPal.
Q: Do you take SORN cars?
A: Yes. Your car does not have to be taxed in order for us to collect it. We will, however, need to know this so that we can recover it on a truck.
Q: Will you take cars without a valid MOT?
A: Yes. Your car does not have to have a valid MOT in order for us to collect. Please remember though that if you are still driving your car, it is illegal for you to drive on a public highway without a valid MOT.